Hapag-Lloyd Chooses Nigeria, Ghana Partners GAC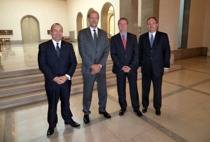 Liner shipping company Hapag-Lloyd has signed agreement for GAC Group to handle its vessels in Nigeria and Ghana
Leading global liner shipping company Hapag-Lloyd has signed an agreement with the GAC Group to handle their vessels calling at ports in Nigeria and Ghana. Under the deal, GAC will act as full liner agents for Hapag-Lloyd, actively selling its liner services in the region, as well as providing a range of shipping agency and complementary services for its fleet.

The deal comes as part of Hapag-Lloyd's strategy to develop and expand its presence in sub-Sahara Africa. Currently, the company operates a fleet of approximately 150 modern container vessels, and has a global presence through 300 offices in 114 countries.

The business will be coordinated by GAC Nigeria, led by Managing Director Neale Proctor who says: "GAC and Hapag-Lloyd share the same sound, ethical values and approach to business, evident in a commitment to looking after people, going the extra mile to surpass customer expectations, operating in an environmentally-aware way and having active social responsibility programmes. Both companies also combine global presence with strong local knowledge.

"In Africa, we have similar strategic ambitions, including the desire to take advantage of the opportunities in the region's largely untapped markets. Together, GAC and Hapag-Lloyd will last the course."

GAC has operated in Nigeria since 1978, providing shipping, logistics, marine and manning services.