Hapag-Lloyd Profit Doubles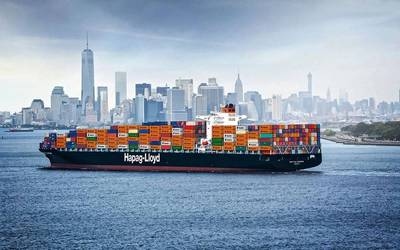 German shipping company Hapag-Lloyd AG more than doubled its bottom line in the third quarter compared to the same period last year on account of booking lower interest costs.

The container carrier said in a press release that it made a net profit of 112.4 million euros ($128.5 million) in the quarter ended Sept. 30, compared with EUR51.6 million a year earlier, on revenue that rose 8.6% to EUR3.04 billion.

Hapag-Lloyd has concluded the third quarter 2018 with higher earnings before interest and taxes (EBIT) of EUR 212.1 million (Q3 2017: EUR 178.1 million).

Meanwhile, in the first nine months of 2018, earnings before interest, taxes, depreciation and amortisation (EBITDA) rose to EUR 813.7 million (9M 2017: EUR 722.8 million).

After the first nine months of the year, revenues stand at EUR 8.4 billion (9M 2017: EUR 7.3 billion). Significantly contributing to this development in revenues was a 27 percent increase in transport volume, which rose to 8,900 TTEU in the nine-month period (9M 2017: 7,029 TTEU).

"We have seen a positive development in the third quarter and also ended on a positive group net result after nine months. Higher transport volumes, a better utilisation of our ships and the synergies from the recent merger with UASC have enabled us to partially offset rising operational costs," said Rolf Habben Jansen, CEO of Hapag-Lloyd.

"In addition, the average freight rate improved during the peak season in important trades. Despite the persistent upwards pressure on the operational costs in various parts of our business, we remain cautiously optimistic for the rest of the year," said Rolf Habben Jansen, CEO of Hapag-Lloyd," Rolf added.

The developments in fuel costs and freight rates are in line with the forecast for 2018 as a whole, which was adjusted on 29 June 2018. This forecast remains unchanged and lies within a range of EUR 200 to 450 million for the EBIT and within a target corridor of EUR 900 to 1,150 million for the EBITDA.

Based on the positive development we have seen in the third quarter of 2018, EBIT and EBITDA are expected to be in the upper part of these ranges for the 2018 full financial year.