Grimaldi Restarts Regular HAROPA/Baltic Sea Service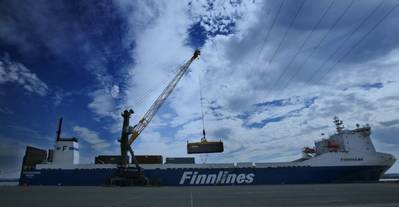 The Italian shipping group Grimaldi is expanding its presence on the HAROPA terminals with a new liner shipping service covering the Iberian Peninsula, Scandinavia / Baltic and the UK.

Finnlines – a subsidiary of the Italian group since 2006 – offers from the Radicatel Terminal a weekly shipping service direct to Santander - El Ferrol (1/ 2) - Radicatel (HAROPA-Port of Rouen) - Hull (UK ) - Helsinki - Saint Petersburg - Kotka (Finland) - Rauma (Finland).

Grimaldi say that the transit times are worth noting:
5 days to Helsinki
6 days to St Petersburg
2 day from Santander
2 days from El Ferrol
Four conventional ro-ro ships (CONRO) provide the service on fixed days (Friday / Saturday), transporting containerised or conventional freight as well as vehicles.
"We are responding to the needs of our customers with this new line to Finland, the UK and Russia and very short transit times (*)", David Giboudeau, CEO of Grimaldi ACL France points out. "It also offers work windows on fixed days and a highly flexible "express" service in terms of closing times."

The maiden port call at the Radicatel Terminal took place on 6 July with the Misana vessel (launched in 2007, 165 metres LOA, 24 metres beam, 11,407 dwt, flying the Finnish flag).

"The arrival of Finnlines boosts the business of the HAROPA port communities on these trades, in particular for the companies in Rouen that have always shipped to Scandinavia such as Promaritime, one of the pioneers in shipping on this sector with its Promarline Service," Hervé Cornède, HAROPA Commercial and Marketing Director, notes. "In addition, the decision of the Grimaldi Group to expand its services via HAROPA is a strong sign of confidence for all shippers."