Hatteland Expands 4K Display Portfolio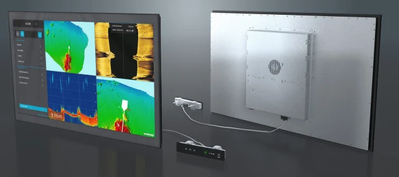 Hatteland Display released a new 43 inch premium quality display as part of its Series X MVD product family.
Hatteland Display's latest UHD system features the same 4K panel technology as existing Series X MVD variants, all of which are designed to deliver the brightest, clearest picture for the safe and effective operation of bridge navigation and control systems.
With 3840 × 2160 pixels compared to 1920 x 1080 on Full High Definition (FHD) displays, UHD is a significant technology improvement that empowers maritime technology manufacturers to develop new, more ergonomic and user friendly bridge consoles and designs. While the crystal clarity of the image contributes to reducing human error due to easy viewing in all light conditions and angles, the UHD format also allows for multiple inputs to be displayed in real-time, opening the possibility to reduce the number of displays needed for safe navigation and maneuvering.
Hatteland Display introduced UHD to its customers with the launch of its 55 inch Series X Chart & Planning table in 2017. Its top line portfolio has continued to expand with the addition of console, wall and floor mounted variants and the addition of a 32 inch model utilizing the same technology-base. The new 43 inch version bridges the gap between the existing Series X MVD sizes, helping Hatteland Display's customers to do even more with its cutting-edge solutions. With flexible inputs, all Series X MVDs can accept and display data from any source including navigation and automation systems, as well as operational specific applications, e.g., winches and trawl monitoring equipment on fishing vessels or fire safety systems on a cruise ship.