Search for ONGC Offshore Helicopter Crew Continues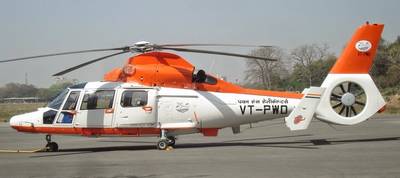 The Indian Navy has widened its search operations for the missing crew members of the Pawan Hans helicopter (C/s VT-PWA) which crashed off the Mumbai coast on Saturday.
The helicopter with seven people on-board, including five Oil and Natural Gas Corporation (ONGC) officers and two pilots, crashed off the Mumbai coast minutes after it took off for the state-owned company's oil installation in the
Arabian sea
on Saturday.
According to NDTV report, on the third day of search in the high seas, the rescuers located the last remaining body - of the missing pilot. Earlier the rescue teams of Indian Navy and the Coast Guard had recovered six bodies on Saturday, including the five ONGC deputy general managers who perished and one of the pilots. However, this is not officially confirmed.
ONGC has key offshore oil and gas fields off the Mumbai coast and Pawan Hans helicopters routinely ferry company employees and officers to the oil installations that are situated as far as 160 kilometres from the coastline.
INS Teg with its integral helo assumed the duties of Senior Officer Search Force commencing 1715 H on 13 Jan and coordinated the search and rescue efforts with IN, ICG & ONGC assets.
In addition, IN Dornier (medium range aircraft) and P8I (long range aircraft) continued to augment surface search efforts late in the night of 13 Jan 18 and efforts with helicopters Seaking SK 520 and Chetak CH 429 (Ex INS Teg) have been continuing since AM 14 Jan 18. Additional debris sighted by ships/ aircraft are being recovered.
INS Makar, a special hydrographic ship with side scan sonar capability will supplement search efforts commencing PM 14 Jan 18. A total of 16 ships (02 IN, 05 ICG and 09 ONGC) and four aircraft (Seaking/Chetak from IN & Dornier/Chetak from ICG) have been on task since AM 14 Jan 18.
OSV TAG-15 (with side scan sonar) and OSV Samudra Sevak (OSV) are currently undertaking survey/ diving in the area All other IN, ICG and ONGC assets are participating in the search for locating the missing crew and debris of aircraft.