HEVIMA System Demo at Falmouth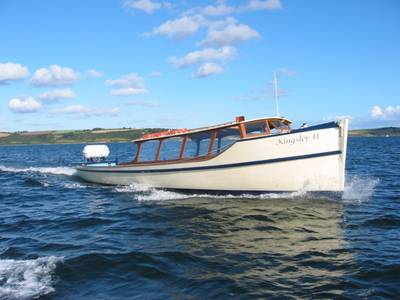 The HEVIMA Innovate UK co-funded project, led by REAPsystems, will be demonstrating its innovative modular hybrid propulsion at an event in Falmouth on Wednesday 22nd May 2019.
This new system will potentially offer significant savings in fuel, engine power rating, weight and emissions, as well as reduced noise and vibration for commercial vessels up to 250kw.
The HEVIMA system is designed to outperform the efficiency and emission levels of existing hybrid systems for the small commercial vessel market and should offer operators significant benefits in terms of economy and improved vessel performance. Use of this technology is particularly relevant to the small commercial marine market where many vessels have duty cycles requiring significant load changes from their prime movers.
The event, which is free to attend, will enable interested parties to see the hybrid propulsion system in use on the working passenger ferry Kingsley II. The technology is currently being tested on the Kingsley II which is owned and run by Cornwall Ferries Ltd. Participants will learn about the benefits and opportunities this technology can offer through technical presentations and live vessel demonstration. There will also be an opportunity to network with the HEVIMA project team.
Currently available complete hybrid solutions can be obtained from 'one-stop' providers but they are often either too inflexible or expensive for many applications. These factors have limited the uptake of the new technology by small commercial vessels.
The HEVIMA hybrid system uses three integrated technologies to offer improved redundancy, better control and response, reduced emissions and noise, lower vibrations and significant savings in fuel consumption. The system uses flexible modular design, also known as Open Architecture.
The demonstration event is taking place on Wednesday, May 22, 2019, 10.00-15.00 at the National Maritime Museum, Falmouth.