Austal Starts Building High-speed Ferry for Denmark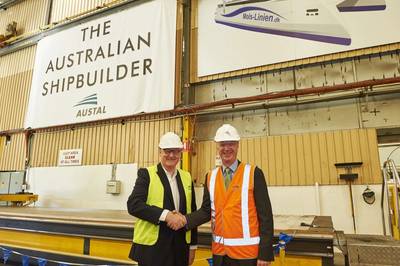 Australian shipbuilder Austal said it has started construction on a 109-meter high-speed catamaran ferry Express 4 for Molslinjen of Denmark, with the first plate-cutting conducted at Austal's shipyard in Western Australia.
Molslinjen Chairman, Frantz Palludan officially initiated the aluminum plate cutting for Austal's largest commercial ferry project since 2011 and the largest commercial ferry by volume in the company's 28 year history.
Palludan was joined by Soren Jespersen, Vice Chairman of Molslinjen and Magnus Psilander of Grifone Shipbrokers AB at the plate cutting ceremony which was hosted by
Austal Chairman
John Rothwell and Chief Executive Officer David Singleton.
Highlighting the vessel's new, customized design,
David Singleton said
the vessel represented the very latest in high-speed catamaran technology, delivering an optimum ferry solution for Molslinjen.
"Austal's sleek hull form and clever superstructure design will enable over 1,000 passengers and 425 cars to be transported safely, at up to 40 knots and in class-leading comfort. This new vessel has a sufficient vehicle deck width for articulated-vehicles, with 610 lane meters for trucks and other commercial vehicles – no other ferry design can match this capability."
"Austal's unique 109 meter high speed catamaran gives Molslinjen a true, competitive advantage and the very best offering to the travelling public and commercial vehicle operators. This vessel will set a new standard for speed, comfort and efficiency," Singleton added.
Express 4 will be the fourth high-speed catamaran ferry launched by Molslinjen in six years and reflects the continuing success of the company, which has seen a 46 percent increase in passenger numbers across its network since 2011.
Employing more than half of the 600-strong workforce at the Henderson shipyard, including many of the 100 new apprentices to be recruited in 2017, Austal is on schedule to deliver Express 4 in late 2018.