This Day In Naval History: April 1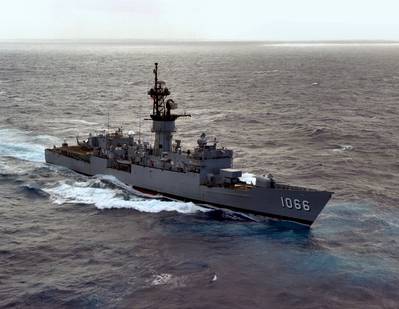 1893 - Navy General Order 409 establishes the rank of Chief Petty Officer.
1899 - A landing party of 60 men from USS Philadelphia (C 4) and a force of 100 friendly natives join 62 men from HMS Porpoise and Royal Isle in Samoa to establish order over Samoan throne.
1943 - USS Shad (SS 235) torpedoes and damages the Italian blockade runner Pietro Orseolo, shortly after the Italian ship reaches the
Bay of Biscay
and her escort of four German destroyers.
1945 - Under heavy naval gunfire and aircraft support, U.S. Army and U.S. Marine Corps troops begin the invasion of Okinawa, the last major amphibious assault of World War II.
1948 - Helicopter Utility Squadron ONE and TWO (HU-1 and HU-2), both known as the "Fleet Angels," were formed from the newly decommissioned Helicopter Development Squadron THREE (VX-3) at Lakehurst, New Jersey. These were the Navy's first two helicopter squadrons.
1991 - USS Marvin Shields (FF 1066) arrives at her home port of San Diego, Calif. She is the first West Coast ship to return to CONUS from Operation Desert Storm.
2007 - The last US Navy T-2C Buckeye, assigned to VX-20, retires to Patuxent River Naval Air Museum.
(Source: Naval History and Heritage Command, Communication and Outreach Division)