US Navy Hurricane Sandy Relief Ships Homeward Bound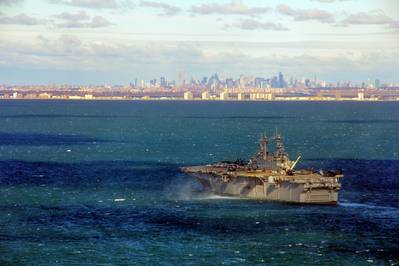 The three amphibious ships supporting Hurricane Sandy relief efforts off the coast of New York & New Jersey return to their homeports in Virginia.

Operations in support of relief have shifted into the recovery phase and the Federal Emergency Management Agency (FEMA) and U.S. Army Corps of Engineers are fully operational and providing sustained assistance as requested by state and local authorities.

 Navy and Marine Corps forces aboard the ships systematically transitioned the services they were providing to these organizations as a way to maintain continuity during long long-term disaster response.


The multipurpose amphibious assault ship USS Wasp (LHD 1) and the amphibious transport dock USS San Antonio (LPD 17), homeported at Naval Station Norfolk, and the dock landing ship USS Carter Hall (LSD 5), homeported at Joint Expeditionary Base Little Creek-Fort Story in Virginia Beach, Va., sortied to the New York/New Jersey coast following the destruction wrought by Hurricane Sandy on the Northeast region.


Sailors from all three ships, and Marines embarked from the 26th Marine Expeditionary Unit (MEU), provided support throughout the affected region. They assisted with repair of the Hoboken Ferry Terminal and the Sandy Hook Coast Guard Station; emergency clearance and restoration efforts in Staten Island, N.Y., and New Jersey's Barrier Islands; dewatering efforts at Rockaway Beach, N.Y., Staten Island, Ellis Island, and at locations in the vicinity of the World Trade Center Memorial.

The ships also served as a landing platform for U.S. Coast Guard assets conducting search and rescue operations.