HydroComp Software Propels Iowa Project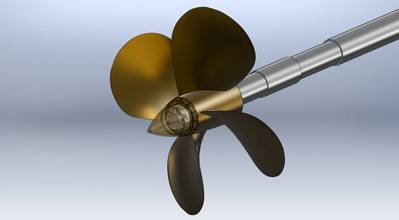 HydroComp Inc. announced that it is participating in the IOWA Project.
Recreating a model of a fully functioning historical battleship requires time, passion, and dedication. Donn McKinney's passion will soon produce a fully operational and functional replica of four Iowa Class battleships ships: The U.S.S. Missouri (BB-63), U.S.S. Iowa (BB-61), U.S.S. New Jersey (BB-62) and U.S.S. Wisconsin (BB-64).
Several donors have teamed with McKinney on this project. HydroComp was called upon to assist with the recreation of the ship propellers. According to HydroComp's Technical Director Donald MacPherson, HydroComp was able to contribute to the project by using its PropCad® software to design the four- and five-bladed propellers.
HydroComp's staff was tasked with recreating the original propeller blades and hubs, as full 3D models for the quad-screw IOWA-class hulls. Copies of the original propeller design documents were reviewed to determine the particular geometric characteristics of the two sets of four- and five-bladed propellers (the outboard and inboard pairs respectively). HydroComp's PropCad propeller modeling software was employed to develop the recreated designs, and then to export the geometry to 3D CAD. The blades and hub were then combined and finished into individual solid models.
Once the battleship replicas are completed, they will be put on display in local museums and education centers for the enjoyment of the general public. Visitors will have access to controls in order to operate elements of the ship and ultimately enhance their learning experience.