UECC Orders Dual-Fuel Ice-classed PCTCs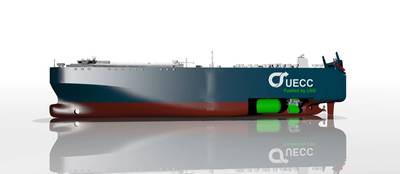 United European Car Carriers (UECC), jointly owned by Nippon Yusen Kabushiki Kaisha (NYK) and Wallenius Lines, inform it has signed a contract to construct two triple-fuel LNG Pure Car & Truck Carriers (PCTCs).

The contract has been signed with Kawasaki Heavy Industries (KHI) and the vessels will be constructed at the NACKS shipyard in Nantong, China which is a joint venture between KHI and China Ocean Shipping (Group) Company. Deliveries of both the vessels will be in the second half of 2016.

The vessels will be 181 metres long with a 30 metre beam, and both will have 1A super Finnish/Swedish ice class, facilitating year round trading in the Baltic area.

Approximately 3 800 standard sized cars spread over 10 decks will able to be transported, and a significant part of the cargo capacity can also be used to transport high & heavy cargo and any other cargo loaded on to mafi trailers. The deck configuration is optimised for both present and predicted future cargo mix.

The vessels are capable of operating on LNG fuel or heavy fuel oil and marine gas oil, providing greater flexibility and efficiency. UECC claim that these are the first PCTCs of their kind to be fitted with an LNG fuel propulsion system, giving the ability to complete a fourteen day round voyage in the Baltic using solely LNG fuel, including main engine and auxiliary power generation.

"The LNG installation is a pioneering design and will be one of the largest employed on a commercial vessel and the largest yet of its kind on a pure car and truck carrier. We are proud of the exciting step UECC is taking towards greener and more environmentally friendly shipping" said Glenn Edvardsen, CEO of UECC.

The vessels have been jointly developed by UECC, Wallenius Marine and NYK Technical Group, together with Kawasaki Heavy Industry in Japan.