IEC Telecom Launches Orion Edge+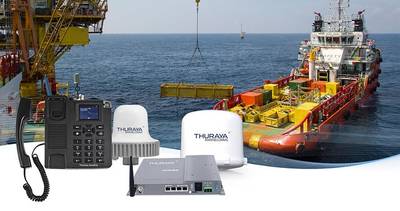 IEC Telecom will launch its Orion Edge+ satellite voice and data communication solution during this week's Sea Asia (April 9 to 11).
Orion Edge+ provides high quality, reliable broadband with the ultimate cost effective operational benefits. It also provides flexible data plans with no long-term commitment. This flexibility makes Orion Edge+ ideal for busy offshore support vessels, tugs, and oil and gas contractors.
Powered by Thuraya's Orion IP broadband and Thuraya's Seastar circuit switched voice terminal, the Orion Edge+ solution offers high quality voice and data services bundled with consumption monitoring tools and controlled welfare applications – all regardless of vessel size.
Orion Edge+ is available through monthly plans with no long-term contractual commitments. Specialized hardware offered by IEC Telecom keeps upfront costs low and provides full visibility for management control, both onboard and onshore. Orion Edge+ is equipped with Wan Optimizer, enabling TCP acceleration and bandwidth optimization.
Crew welfare needs are enhanced by local Wi-Fi management which enables vessel and offshore platform managers to provide crew with access to social media platforms and the internet, with safety maintained by high level security systems. Access is granted via an advanced captive portal and consumption can be managed via vouchers or scratch cards for crew members. Thanks to IEC Telecom's integrated solutions, this is possible even for small vessels that cannot accommodate a VSAT antenna.
IEC Telecom also recently entered into a win-win partnership with Thuraya Telecommunications to commercially offer Thuraya VSAT+ across Europe, Asia-Pacific (APAC) and Middle East and Africa (MEA). This innovative solution ensures optimum flexibility of satellite service and is scalable to meet global and regional needs for essential communications such as voice calls, email and position reporting, and for high-bandwidth requirements.