Incat Crowther to Supply Second New York – New Jersey Ferry for Seastreak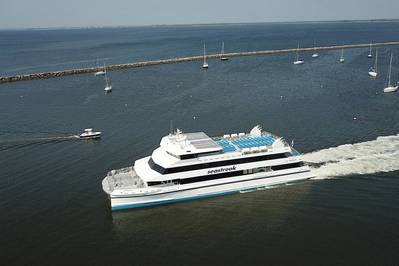 Marine engineering design specialist Incat Crowther has been awarded the contract for the construction of a new vessel for New York and New Jersey ferry operator Seastreak.
The new vessel will operate as a sister ship to the company's Seastreak Commodore ferry, which was delivered to the company in June 2018, the success of this vessel enabling a second Incat Crowther 45 ferry to accommodate the large passenger volume along traditional routes serviced by Seastreak.
The addition of the new vessel brings the operator's fleet of Incat Crowther-designed vessels to a total of nine. At 45 meters x 12 meters and with a capacity for 600 passengers, the sister vessel will join Seastreak Commodore as the highest-capacity UCSG Subchapter K certified fast ferries in operation. The new vessel will be built at Midship Marine in Harvey, Louisiana and will be powered by four MTU 12V4000 M64 main engines, which Incat Crowther has said will provide redundancy whilst operating efficiently at a modest rating. The vessel will be propelled by Kongsberg Kamewa 63S4 waterjets.