Inland Waterway Information System Installed by Transas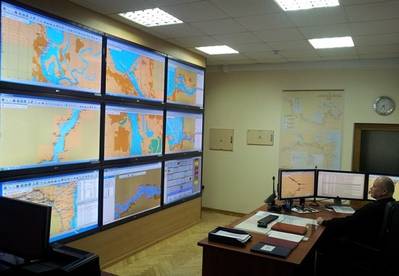 Transas install and commission a River Information System on the Dnieper and Danube rivers.

The River Information Service was designed specifically to ensure safe navigation on inland waterways, to provide electronic data transfer between water and shore through real time information exchange and harmonise information services to support traffic management in inland navigation.

The system comprises the AIS Network which provides centralized control and diagnostics of AIS Base Stations T-214 installed along the Dnieper and Danube. It enables reception and transmission of data from/to AIS Base Stations, as well as information exchange between vessels and shore side operators through the communication channels. One of the system's key features is ability to send electronic notices to boat masters which are automatically translated into 24 languages.

Through the Web portal of the River Information Service of Ukraine (www. ukrris.com.ua), which collects information from sub-systems of the RIS, it is possible to provide users with real time information and ensure timely data exchange between different services. It will help to plan resources for port and terminal processes as well as streamline the information flow.

The River information system of Ukraine covers inland waters of the Danube and Dnieper rivers. Compliant with European standards and all specific requirements for the River Information Services, the RIS is a unique system which has no analogues in CIS.