First of Innovative Bulk Carrier Series Delivered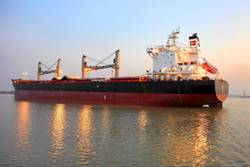 DY4001 is the lead ship of the CROWN 63 series, a series of 63,500-DWT bulk carriers, which recently completed its sea trial items made its return voyage on February 17.
According the shipyard, the vessel's speed trial was proven beyond its design prediction and met all the guarantee. DY4001 was built by Dayang Shipyard, designed by
Sinopacific Group Design
, is owned by
SETAF
and is classed by Bureau Veritas.
Compared to the CROWN 58 58,000
bulk carrier series
, CROWN 63 has a 9% increased deadweight and reduced fuel consumption by 13% at the same service speed. Mr. Jean LABESCAT, Technology General Manager of SETAF was satisfied with the outcomes of the sea trial. "DY4001 features outstanding performance and its design gives consideration to the owner's operating benefits." LABESCAT said.
DY4001 will be delivered at the end of this February after which her sister vessels will be delivered in succession. As the key product of Dayang Shipyard of Sinopacific Group, the CROWN 63 series is expected to encompass a total of 22 vessels planned for delivery in 2012.
Based on CROWN 58, the CROWN 63 has optimized its body lines and improved the design for bulbous bow, propeller and rudder bulb, helping to achieve an optimal combination in various critical elements and then improve propulsion efficiency. By adopting low-sulfur fuel system, the vessel's SOx emission has been reduced.
According to Mr. Chen Jingwei, Deputy General Manager of GreenSeas Marine Technology of Sinopacific Group, who witnessed this sea trial, CROWN 63 experienced a one-year initial design optimization and went through tank tests five times at The Hamburg Ship Model Basin, Hamburgische Schiffbau-Versuchsanstalt GmbH (HSVA)).
CROWN 63 adopts low-speed two-stroke electronic injection diesel engine from Doosan Engine. Its electronic injection system provides higher precision in fuel injection, features sufficient combustion and long working time, which turns out to be efficient in reducing the fuel consumption as well as NOx emission.
BV issued Energy Efficiency Design Index (EEDI) for the lead ship of CROWN 63, which is also BV's first EEDI certificate in Asia. Meanwhile, the Green Passport certificate will be issued for this vessel (DY4001) by BV as well.