Innovative Tugboat Delivered to Columbia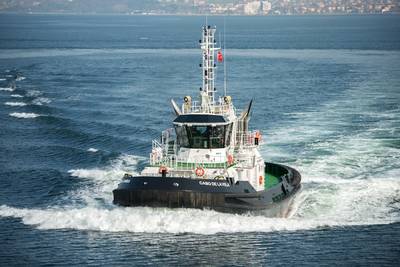 Tugboat 'Cabo de la Vela' an AVT 3000-Class Voith Schneider vessel designed by Robert Allan Ltd. for Carbones del Cerrejón delivered by Uzmar Shipyard, Turkey.

This is the second of a two boat order from Carbones del Cerrejón for the AVT 3000 Class Tugs designed by Robert Allan Ltd., Naval Architects of Vancouver, B.C., Canada. Cabo de la Vela will join her sister vessel, the Media Luna, in Puerto de Bolivar.

The AVT 3000 tugs for Cerrejón were designed to meet Cerrejón's requirements for performance, propulsion equipment, accommodations, tank capacities and outfit. The Cabo de la Vela features a partial raised focsle for operation in rough weather and a large functional aft working deck for efficient ship handling operations. Designed for a bollard pull of 60 tonnes, she and her sister will be the most powerful tugs in the Puerto Bolivar fleet.
Particulars of the Cabo de la Vela are as follows:

*Length overall: 30.75 m
*Beam, moulded: 12.0 m
*Depth, moulded: 4.80 m
*Maximum draft (overall): 6.2 m

The vessel was designed and constructed to BV Class requirements with the notation BV 1, HULL, MACH, TUG, Unrestricted Service.

Main propulsion consists of a pair of General Electric 12V228 diesel engines, each rated 2289 kW at 1050 rpm, and each driving a Voith Schneider 30R5-250 cycloidal propeller.

The electrical plant comprises 2 identical Caterpillar C 6.6 ACERT diesel gensets, each with a power output of 125 ekW, 60 Hz, 480V.

The aft deck machinery includes a Rolls Royce ATWH 1500/200 render-recover hawser/towing winch with horizontal warping head. The winch has a pull of 20 tonnes at 18m/min. and 5 tonnes at 50m/min. Rendering capability is 30 tonnes at 30m/min and 8 tonnes at 80m/min. Also on the aft deck is a Hella deck crane rated 5 tonnes at 5m reach.

On trials, Cabo de la Vela met or exceeded all performance expectations, with a bollard pull of 63.1 tonnes and a free running speed of 13.1 knots.