Insights: Robert Schluter, e1 Marine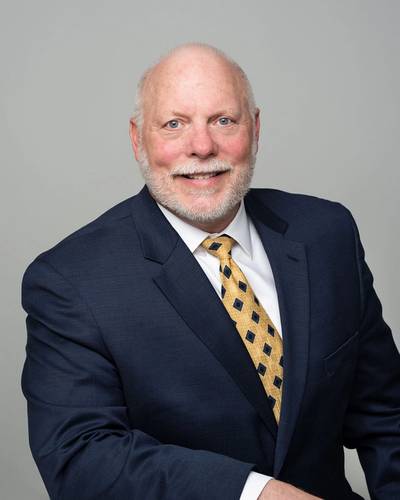 Robert Schluter served as an officer as part of the marine engineering team on board the U.S. Navy guided missile destroyer USS Mahan DDG-42 out of Charleston before transitioning to the business world and "general, corporate type work". Today he serves as managing director at the third startup he's helped build, e1 Marine.
The company, a joint venture between Louisiana-based marine equipment lessor Maritime Partners, Irish tanker owner Ardmore Shipping and Schluter's second startup, Bend, Ore.-based hydrogen generation specialist Element 1 Corp, supplies methanol-to-hydrogen generator technology for vessels as the maritime industry plots its course toward cleaner operations.
With any new technology comes challenges, and many times one of them is proving a novel solution to a market that is not necessarily open to change.
"You need to help people understand what they're getting. All of the parts [in e1 Marine's solution] have already been commercialized in other industries, just not in any great degree in the marine sector yet," Schluter said. "This is technology that's been developed over 30 years, commercialized over 20. We're just moving into the marine space, and we scaled up a little bit to fit the size of the application."
Another key, Schluter said, is finding the right applications and partners to prove the technology. "In any industry, whether it's telecom, trucks or larger stationary power, in the beginning edge, you'll have a few leaders who are willing to do the investment—kind of like Maersk on the methanol side—and that just moves things forward. They understand that leading is a little more expensive, but it's strategic in nature. In the inland waterway space, Maritime Partners took that lead [with Hydrogen One, the world's first methanol to hydrogen fuel cell towboat]. So, you get some people who will pioneer that space, and then you just start building behind that."
In late 2022, e1 Marine inked a memorandum of understanding with naval architecture firm NAVTEK to develop hydrogen-powered marine vessels and port applications for the European market, starting with a 120-160-meter car carrier requiring 8-10 megawatts of propulsion power and a hybrid tugboat. "There's a lot of opportunity there," Schluter said.
"In simplified terms, we turn methanol to hydrogen as needed," Schluter said. "As the fuel cell, which is the engine in this case, needs hydrogen, we just operate the fuel delivery system to provide the hydrogen as it's needed." (Image: e1 Marine)
Asked about broader opportunities across the maritime industry, Schluter said segments most interested in e1 Marine's offering are those that need to achieve a carbon reduction goal of some kind. "We're going to play in vessels that are up to about 6 MW to 8 MW, today. Three years from now, that probably goes up 20%, and then eventually in 15 years we're probably sitting here talking about a large cruise ships. It's an evolution. But right now, anything that's inland waterways and nearshore is good."
For e1 Marine, tug and towboat applications are "real time", Schluter said. "It's currently about a two- to three-year process to go from, 'Let's do this,' to when it's on the water. You have all the engineering, you've got to get your system integrators that manage all the control elements because how I ramp up and down for producing hydrogen is slightly different than how a fuel cell ramps up and down. What are the battery sizing and its requirements? And if you're in the pilot house driving, it needs to be totally seamless, so that controls element is where the investment is right now."
A key takeaway from the ongoing Hydrogen One project, Schluter said, is the importance of getting the load profile right. "When somebody says they want to do a vessel, the first question I ask is, 'Do you know how much power you need?' Because you need to think of it different than if you say, 'Okay, I've got a towboat, it needs 2,000 horsepower. I usually buy two Cat or two Cummins engines, and that's what I want to emulate.' Back up. Because how much power do you actually need?"
"With Hydrogen One, we initially thought we needed a lot more power," Schluter said. The project partners measured eight vessels and found the average load was about 24% of their original estimate. "That totally changed the dynamics between how much battery versus how much fuel cell hydrogen generator. It all starts with the load profile. Once that's dialed in, it drives how big each of the parts will be. So that's where we start. Monitor your load, put trackers on your engines, understand what your load profile is for your evolutions, and that'll drive your solution because you'll save a ton of money when you're ready."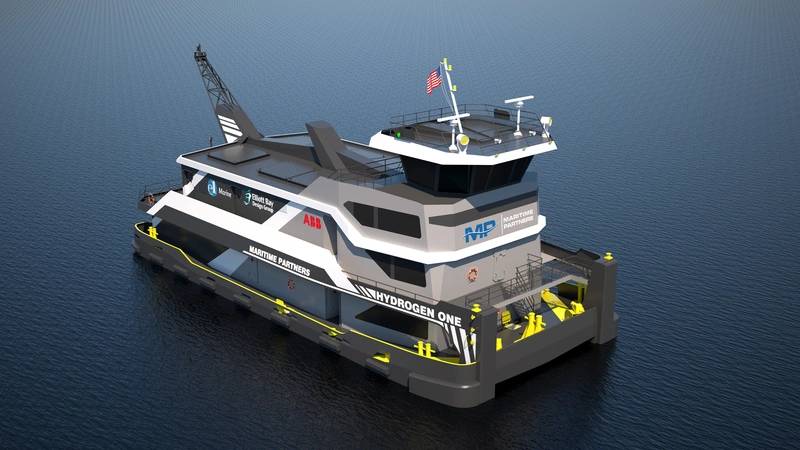 American Commercial Barge Line (ACBL) is expected to operate Hydrogen One, a first-of-its-kind towboat that will run on emissions-reducing methanol-to-hydrogen generator technology—without diesel propulsion. The vessel is being developed by Maritime Partners and will be built by Intracoastal Iron Works in Bourg, La. Hydrogen One's propulsion system, which relies on e1 Marine's reformer technology to essentially convert bunkered methanol into pure hydrogen on demand, will emit no nitrogen oxide (NOx), sulfur oxide (SOx) or particulate matter (PM) pollution. The hydrogen will run through fuel cells, creating electricity for the vessel's motors, which drive dual L-drive azimuth thrusters. (Image: Elliott Bay Design Group)
Another area of opportunity for e1 Marine is shoreside. The company is developing a containerized solution that it will demonstrate this year for applications such as reefer power, cold ironing and e-vessel charging, Schluter said, noting demand for this type of product is coming from places like Northern Europe, the U.S. and Singapore.
"As more battery vessels [enter service], and their mission can be effectively accomplished through batteries, they'll need to be charged, and there's not enough grid infrastructure to support that. It's hard to bring additional capabilities to the port; you almost have to build a new power plant at the port, Schluter said. "We offer distributed power generation that can either fill a gap or it can be a permanent solution."
"In Norway, for example, they may not have power for the fjords—it may never go down there. And yet they'll have e-vessels that are servicing the fjords. How are you going to do that? They need to have some kind of distributor power scenario in the fjords itself."
Referencing another possible use case, Schluter said he recently spoke with a port in Norway that gets their main power from wind and solar, leaving gaps to fill. "Both provide good power, but can be unreliable. It gets dark, the wind's not always there. So they need a stopgap, and we're talking to them about that as well."
For cold ironing, again, there's often a lack of adequate power at ports, Schluter said. "How do you support that? We're doing that with a containerized solution and eventually power barges, megawatt scale, floating power stations."
"I believe many a times we're going to be a very good solution. We're not always going to be the solution, but we can be a part of the mix."