Watermaker Offers Installation Flexibility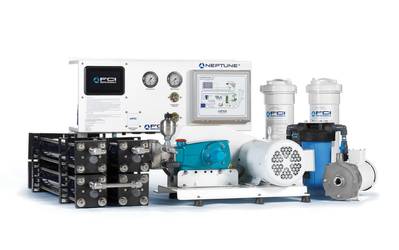 Even on large vessels, machinery spaces tend to be cramped and have reduced accessibility. Knowing this, FCI Watermakers offers its high-efficiency Neptune+ Series in a convenient, modular configuration for a wide variety of flexible installations. It delivers 1,275-9,500 gallons of pure, fresh water every day.
Refitting large framed or skid-mounted watermakers commonly requires cutting the deck—an enormous added expense. With FCI's Neptune+ Modular, individual components are easily brought into the engine room through a door or hatch. Once inside, they can be installed wherever access needs and the space dictate.
The Neptune+ Series is the industry standard for a large, commercial-grade watermaker, the manufacturer said. It uses only nonproprietary parts and premium components, and its state-of-the-art V4 controller bears type certification approval from ABS, CE, GL,
Lloyd's Register EMEA
,
Det Norske Veritas
and the Russian Maritime Register of Shipping.
All watermaking processes are controlled through the intuitive navigation on the marine-grade 7-inch touch screen. With +APC (automated pressure control), the system will start, make water, run a diagnostic check, shut down, flush itself with fresh water and come back online—all automatically
The Neptune+ adapts to a wide range of water conditions. It's tolerant of suspended particulate matter and variations in salinity.
Like all FCI Watermakers, the Neptune+ is engineered and built in the U.S. The company has a worldwide network of authorized dealers and distributors in 60 countries across six continents.