Miller's XMT 450 MPa Simplies User Interface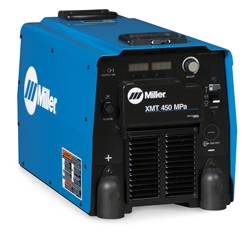 Miller's new XMT® 450 MPa multiprocess welder features the reliability and arc performance of the XMT 350 MPa but with more amperage, exceptional power efficiency and additional programs for Pulsed MIG welding with up to .052- and 1/16-inch wires. Rated at 450 amps at 100 percent duty cycle, the new XMT 450 MPA improves productivity, allowing workers to weld or gouge longer, and with larger diameter wires and electrodes.
The machine improves power efficiency compared to older equipment, and it simplifies the user interface and controls for ease of operation. This includes a process selector switch and large, dual digital meters. It also offers synergic Pulsed MIG welding capabilities when matched with 74 MPa Plus and AlumaFeed™ feeders and an XR-AlumaPro or XR-Pistol MIG gun. As the welder manipulates the wire feed speed on the gun, the system automatically adjusts pulse parameters to match that wire feed speed.
The new XMT 450 MPa features many of the technologies welders have come to trust in Miller's XMT series of inverter-based multiprocess power sources: Lift-Art™ TIG for starting the arc without the use of high frequency in TIG welding; Adaptive Hot Start™ for increased amperage at the start of the weld to eliminate electrode sticking; Line Voltage Compensation for keeping the welding output consistent even if input power varies; Fan-on-Demand™ cooling system that operates only when needed, reducing noise, energy use and contaminants pulled in to the machine; and Wind Tunnel Technology™ that protects electrical components and PC boards from contamination.