Intermarine's Grikitis to Receive AOTOS Award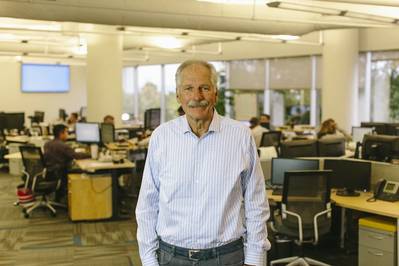 Project, breakbulk and heavylift cargo transport company Intermarine, LLC announced that its President & CEO, Andre Grikitis, will be awarded with the Admiral of the Ocean Sea by the United Seaman's Service (USS) at the organization's 48th annual gala at the Sheraton New York Times Square Hotel, New York City, on October 13, 2017.
The Admiral of The
Ocean Sea Award
(AOTOS) has been presented annually by United Seamen's Service for the past 47 years. The AOTOS Award is given in recognition of individuals and organizations that have shown outstanding support for
American seafarers
and the maritime industry of the United States.
Grikitis has used a combination of personal commitment and business savvy to propel Intermarine, LLC to the forefront of America's heavylift and specialized cargo vessels. He began his career in the maritime industry as a chartering manager with World Trade Shipping, a New York-based vessel operator. In the early 1980s, he joined another New York-based vessel operator, T.J. Stevenson, as Vice President. In 1993, Grikitis acquired the vessel operations of this then employer, D.W. Lee, Inc., which he later renamed Cargoships, Inc.
Cargoships became responsible for all ship chartering for Intermarine's services. In 2006, Grikitis became the Chief Operating Officer and later Chief Executive Office for Intermarine and assumed responsibility for the Company's U.S. Flag division. During his term as President and CEO, and as also while serving in the role of Operating Chairman, Grikitis led the expansion and development of the company and its services. These include a U.S. Flag fleet consisting of seven U.S. Flag multi-purpose vessels engaged in worldwide trade and an international fleet of approximately 40 internationally registered vessels engaged in Intermarine's liner and worldwide services. Grikitis recently led the company's efforts in connection with a newbuilding program for the construction and delivery of state-of-the-art, efficient and economical vessels that will deliver over the next five years.
"Andre is a fitting recipient of the AOTOS award. He has served a critical role in the growth and development of Intermarine as a U.S. based and operated company, and the building of the company's U.S. Flag multipurpose fleet," said Will Terrill, CEO and President of US Ocean, LLC. "He is an innovator, as well as an outstanding leader and mentor – he is a deserving recipient of the most prestigious award in the marine industry."
Grikitis received a Bachelor of Science degree in business from Central Connecticut College and a master's degree in Criminal Justice from C.W. Post in New York.