Northport Introduces Actisense Engine Monitoring Units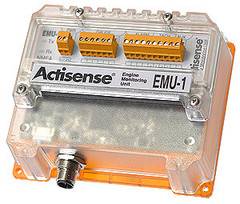 Northport Systems Inc., has announced the availability of the new intelligent National Marine Electronic Association (NMEA)-compliant gateway, the Actisense Engine Monitoring Unit (EMU-1). Designed to digitize analog engine data, The EMU-1 gateway is an innovative, cost-effective, and easy-to-install solution that allows boaters to display and monitor the engines of their vessel on any NMEA 2000 displays. The new EMU-1 will be on display at the Toronto Boat Show (January 11-19) at the Fugawi-Northport Systems' booth #G-315, and has been entered for the 2104 Best of Show award.

The Actisense EMU-1 gateway is capable of digitizing up to six parameters or gauge inputs in parallel, or four alarms, two tachometer and two auxiliary inputs. Each unit can be configured to meet the versatility of various engine makes and models.

"The EMU-1 has been designed so engine information is easily shared on the NMEA 2000 bus, removing the need and expense associated with changing an existing engine," said Phil Whitehurst, managing director of Active Research Limited. "This changes the way analog to NMEA data conversions are done. We are gathering feedback from customers to understand what they want the EMU-1 to support so we can prioritize adding additional features."

The NMEA engine monitoring gateway is now available for Canadian distribution.