ESAB Introduces New Welding Helmet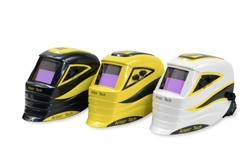 ESAB Welding & Cutting Products introduces the Aristo Tech 5-13 Welding Helmet with Variable Shade ADF.
This helmet is designed for the professional welder, and incorporates the protection and performance ESAB is known for. The Aristo® Tech 5-13 helmet features Auto-Darkening Filter Lens Technology (ADF), and has a variable 5-13 digital control for adjustment of shade level, sensitivity, and delay. The helmet's Quick SetTM feature allows for easy change of shade with a simple up-and-down flick of the switch. The helmet's grind mode is activated at the lowest sensitivity. The Aristo Tech 5-13 comes with ESAB's latest integrated Circuit LENS Technology, which features an internal LCD display with incredible reliability that is suitable for all manual welding processes and plasma cutting.
The helmet's front cover lens is coated for increased scratch and heat resistance. The lens is pre-molded into a convex curve with an optical class 1, which eliminates the threat of duplicate ghost arcs visible through the cartridge. The helmet's lightweight shell and ergonomically designed headgear offers maximum comfort, even when worn for long periods of time. The operator has the ability to move the helmet closer or further away from the face, making it comfortable and easy-to-wear. The Aristo® Tech 5-13 weighs only 1 lb., and is available in 3 high-gloss colors – yellow, black, and white.