Japanese Tsunami Dock Removed from Olympic Coast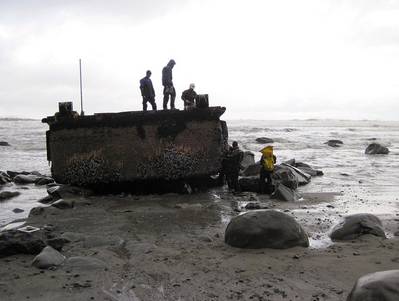 Crews from The Undersea Company of Port Townsend, Wash. have removed the 185-ton dock that crossed the ocean following the March 2011 tsunami.
NOAA contracted with The Undersea Company to remove the dock from the remote wilderness coast in the Olympic Coast National Marine Sanctuary and the Olympic National Park and work began on March 17. "This operation was challenging-imagine opening up a 185-ton concrete package filled with foam packing peanuts while standing near a helicopter on an extremely remote coastline," said John Nesset, president and C.E.O. of The Undersea Company. "We wouldn't have been successful in removing the dock without the hard work and dedication of everyone involved."
The removal effort was supported by many state and federal agencies. Washington's Marine Debris Task Force provided support for the initial response in December 2012, inspected the dock for non-native species, and continued to provide information on their website. The U.S. Coast Guard initially located the dock after it was reported by a mariner. The U.S. Fish and Wildlife Service also supported the effort's planning and preparation, and NOAA's National Weather Service provided spot forecasts for the area, ensuring that the contractors and agency staff were using reliable weather information during the removal work.

To ensure contractor and visitor safety, the coastal area of Olympic National Park between Goodman Creek and Jefferson Cove had been closed to all public entry. These areas have now been reopened.