Japan's KCS Orders New Cable Lay Vessel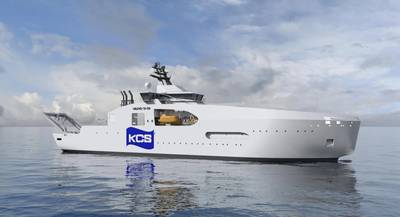 A keel laying ceremony held on September 7, 2017 at Colombo Dockyard PLC in
Sri Lanka signaled
the start of construction on a new cable lay vessel for Japanese owner Kokusai Cable Ship Co. Ltd (KCS).
Vard Design secured the ship design contract with builder Colombo Dockyard for KCS's newest vessel, a VARD 9 01 design tailor-made for installation and repair of subsea telecom cables, with a high capacity below-deck cable carousel.
Developed in close cooperation with the ship owner, the shipyard and key suppliers, the new vessel will be constructed in full accordance with ClassNK and Japanese flag regulations as well as all relevant international safety and environmental standards. The vessel will feature diesel electric propulsion, DP2 positioning and large cable tanks combined with a 2,000 ton capacity carousel. The total cable carrying capacity is 5,000 tons. The outfitting also comprises a dual cable lay system, A-frame, hydro plough and trenching ROV.
Erik Haakonsholm, Senior Vice President in Vard Design, said, "Vard Design has designed 185 specialized vessels for ship owners and shipyards all over the world. We are proud to be selected by Kokusai Cable Ship together with Colombo Dockyard to design their new flagship. Our first cable layer of VARD 9 01 design was built by VARD in 2014, and the new vessel for operations in the Japanese market is a further evolution of this vessel, with additional capacity and power cable installation features."