Did You Know? U.S. vs. China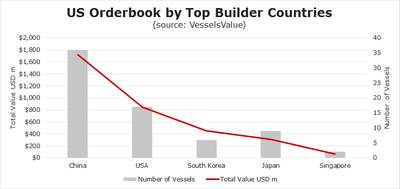 With the United States & China dominating world news with the brewing trade war, it is worthy to note that when you examine the cumulative number and value of U.S. ships on order today worldwide (73 ships, $3.4 billion) Chinese shipyards dominate with a 50% share of the market (36 ships, $1.7 billion).
Look for much more in the March 2019 'Cruise Shipping Annual' edition of Maritime Reporter & Engineering News.
Source: VesselsValue.com