All Known Fires Extinguished Aboard USS Bonhomme Richard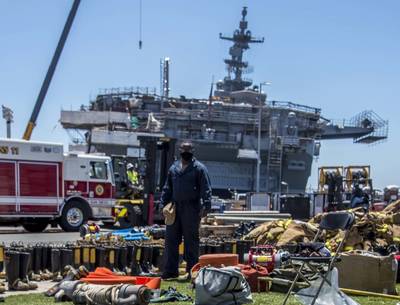 Firefighters have extinguished a major ship fire that burned for more than four days aboard USS Bonhomme Richard (LHD 6) moored pier side at Naval Base San Diego, the Navy said Thursday afternoon.
Rear Adm. Philip Sobeck, Commander of U.S. Navy Expeditionary Strike Group 3, said all known fires have been extinguished on board as fire teams continue to search the 844-foot-long Wasp-class amphibious assault ship to cool hot spots and ensure no other fires remain.
The vessel is listing but has remained stable throughout the blaze.
Sobeck said the cause of the fire remains unknown and that official investigations will not begin until after every space of the ship is checked to confirm there are no active fires on board.
The amount of damage, which appears to be extensive, and the fate of the multibillion dollar warship are also uncertain. "It is too early to make any predictions or promises of what the future of the ship will be," Rear Adm. Sobeck said. "We cannot make any conclusions until the investigation is complete."
"The ship can be repaired. Whether or not it will be repaired will be determined," Rear Adm. Sobeck said.
The blaze broke out Sunday morning in a lower cargo hold and spread upward throughout much of the ship and into the tower and other structures aboard the vessel, which was docked for routine maintenance at its home port.
Hundreds of firefighters battled the fire internally and from the air, land and water over the course of several days in hopes of saving the burning warship. Helicopters dropped more than 1,500 buckets of water onto the vessel to cool the super-structure and flight deck, and tugs provided firefighting support from the waterline, cooling the ship's hull.
Personnel briefly evacuated the ship and pier Thursday morning due to a shift in the vessel's list, but returned to fighting the fire a few hours later.
Over the course of the days-long fire fight, 63 personnel, including 40 Navy sailors and 23 civilians, had been treated for minor injuries including heat exhaustion and smoke inhalation, the Navy said. No personnel are currently hospitalized.