Konecranes-Terex Deal to Proceed as Zoomlion Drops Rival Bid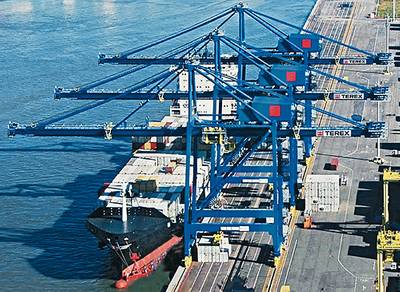 China's Zoomlion Heavy Industry Science and Technology Co Ltd has abandoned its $3.4 billion bid for U.S. crane maker Terex Corp , clearing the way for a smaller deal between Terex and Finland's Konecranes.
The decision comes after six months of merger talks between Terex and Zoomlion, and marks the latest setback to corporate China's ambitions to acquire U.S. assets. In March, Anbang Insurance Group Co unexpectedly withdrew its $14 billion offer to buy Starwood Hotels & Resorts Worldwide Inc.
Zoomlion and Konecranes had both bid for Terex to help them better cope with cooling Chinese and weak European demand in the cranes business.
Konecranes and Terex had agreed on an all-share merger last August, but Zoomlion emerged publicly as a rival bidder in January, and sweetened its unsolicited offer to $3.4 billion in March.
The Finnish company this month scrapped plans for a full merger and instead agreed to buy just part of Terex -- its cranes business for ports and factories (MHPS) -- for 1.1 billion euros ($1.2 billion).
"Unfortunately, after many months of discussions, Zoomlion was unable to provide a fully financed, binding proposal for the purchase of Terex with or without MHPS," David Sachs, chairman of the board of Terex, said in a statement.
The latest agreement with Konecranes gave Terex the right to terminate the deal for a fee by the end of the month if its talks with Zoomlion were to proceed.
"No agreement can be reached on the crucial terms," Zoomlion said in a statement on Friday, but declined to specify what the hurdles were. Sources who asked not to be identified said disagreements over price played some role, but that debt-laden Zoomlion had also not convinced Terex about its ability to finance the deal.
Zoomlion had been looking to acquire what would have been left of Terex following the modified Konecranes deal, one of the sources said. There were concerns that, were Terex's port business to be acquired by Zoomlion rather than Konecranes, the deal would have been scrutinized heavily by the Committee on Foreign Investment in the United States on national security grounds.
Terex shares dropped as much as 21 percent in Friday morning trading in New York. Konecranes shares ended trading on Friday up 3.1 percent in Helsinki, while Zoomlion's shares ended trading down 0.7 percent.
"We've reached the result we wanted, and we are very pleased," Konecranes Chief Executive Panu Routila
told Reuters
, adding that the companies would start integration plans after the summer.
Last week, Konecranes shares jumped as much as 18 percent when the modified deal was announced. The merger is expected to close early next year.
A successful acquisition would have put Zoomlion on a more equal footing with cross-town rival Sany Heavy Industry Co Ltd , which has a U.S. assembly plant.
"Without the positive effect due from Terex, Zoomlion will continue to develop slowly at its own pace," said Jiao Yiding, an analyst at China Merchants Securities in Shenzhen.
Last month, Zoomlion posted a record quarterly loss as Chinese heavy equipment makers battle an historic glut of unsold equipment.
In January, the
United States blocked
a bid by Chinese-based investment fund GO Scale Capital for
Philips
' lighting-components business on security grounds. ($1 = 0.8946 euros)
(By Anne Marie Roantree and Tuomas Forsell; Additional reporting by Donny Kwok, Greg Roumeliotis, and Bengaluru newsroom; Writing by Jussi Rosendahl; Editing by Edwina Gibbs, Keith Weir and Frances Kerry)