STC-Group Orders Kongsberg Simulator Upgrades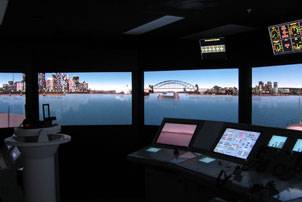 STC-Group has signed a contract with simulation developer Kongsberg Maritime to supply extensive upgrades to its large suite of simulators. The contract consists of sophisticated extensions and upgrades to the group's Kongsberg Maritime full mission and part task ship's bridge simulators and its full mission engine room simulator. A complete upgrade of the group's classroom set of 15 desktop cargo handling simulators and 15 desktop engine room simulators including instructor stations for both classrooms is also included in the delivery, in addition to new ship and engine models for the different simulators.

Kongsberg Maritime will install the latest versions of its ship's bridge simulation software and hardware in order to provide STC-Group with the state-of-the-art in maritime training tools. The upgrade of the ship's bridge simulators will include extension of the visuals and the addition of new navigational instruments including Multiflex touch screen panels, resulting in a more flexible training system and the possibility for STC to provide a greater selection of courses. A range of new high-fidelity hydrodynamic ship models for a greater variation of exercises will also be included in the delivery.

The engine room simulator part of the upgrade will include an extensive upgrade of the group's full mission simulator to the latest MAN B&W MC90-V engine, and a classroom installation of the same model on Kongsberg Maritime's latest version of BigView touch-screen, which is an interactive mimic engine room simulator system. This highly flexible system features 3D models of the engine room that can be interacted with simply by touching the screen. Also included in this delivery is Kongsberg Maritime's latest container ship engine simulator model with Wärtsila RT-flex common rail engine, which is specially developed for training on green ship operations.

STC-Group is also investing to upgrade its current chemical, LPG and crude cargo handling simulator for its classroom configuration, and in response to developments in the Port of Rotterdam, the group has also purchased a sophisticated new LNG cargo handling simulator as part of the contract with Kongsberg Maritime.

The new simulators will also make it possible to continue to meet the standards set for DNV certification and to comply with the Dutch Inspectorate and the competencies required by the revised STCW.

"The contract is a part of the European Transport Academy project partly financed with subsidy from the European Regional Development Fund," said Erik Hietbrink, Chairman of the Board, STC-Group. "As a major education and training institute, STC-Group evaluates on a regular basis the market for various simulator applications, and it appears that no supplier is close to offer the fidelity and realism as found in Kongsberg Maritime simulation models."