New Pilot Boat Soon to Launch in Oregon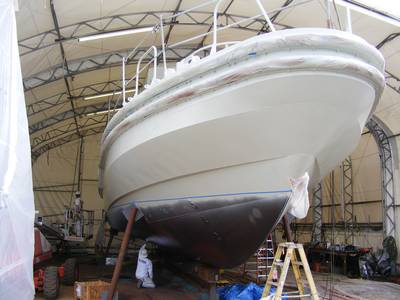 Seattle - The pilot boat Connor Foss is currently under construction at the Foss Maritime Company's Shipyard in Rainier, Oregon, and will replace the Arrow 2 in June, 2012.

The Arrow 2 will be taken out of service after fifty years transporting River and Bar pilots on the Columbia River at Astoria, Oregon. The Arrow 2 began service on the Columbia River in 1962. The steel hull launch boat with a single 700 horsepower engine has made thousands of pilot transfers in its long career.

"It's just time to upgrade our equipment," said Foss project manager Dan Cole. "The Arrow 2 has done a great job all these years. But the Connor Foss will far surpass it in terms of safety and efficiency."

The keel was laid for the new pilot boat in September, 2011, and the vessel is nearly 75 percent complete. The Connor Foss was designed by Kvichak Marine Industries and is based on the design of the pilot vessel Skomer, currently operating for the Milford Haven Port Authority in the United Kingdom. The Connor Foss will have a steel hull with an aluminum deckhouse and will be propelled by twin engines, rated for up to 1,430 horsepower, offering power and maneuverability. The new pilot boat can travel up to 14 knots with a semi-displacement hull riding more atop the waves than its predecessor.

Carrying on Foss' corporate focus on safety, the Connor Foss will have many safety redundancies in place; tilted windows, which offer better views; technologically modern operating systems; a side-mounted hoist system, in case of an overboard incident; an onboard speaker system to aid communication; and a wet exhaust system, removing the traditional smoke stack, which can hinder the operator's rear view.

In April, the Rainier Shipyard will launch the vessel and make final preparations for sea trials. The delivery date is dependent on successful sea trials, but is expected by June, 2012.