VT Halter Launches Barge for Bouchard
Posted by Eric Haun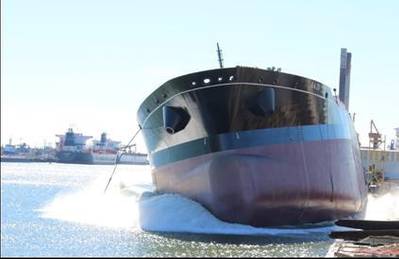 VT Halter Marine, Inc. (VT Halter Marine), a company of Vision Technologies Systems, Inc. (VT Systems) and Bouchard Transportation Co. announced that Barge B. No. 272 was launched on November 20, 2015. This is the second barge of two Articulated Tug Barge (ATB) units constructed for Bouchard Transportation Co., Inc.
Measuring 628 feet by 91 feet by 47 feet, the barge B. No. 272 has a 250,000-barrel capacity, and is ABS and USCG certified for Jones Act service. When completed, the barge will be paired with the tug, M/V Donna J. Bouchard, which was launched by VT Halter Marine at the Moss Point Marine facility in Escatawpa, MS on September 15, 2015. The M/V Donna J. Bouchard is a 10,000hp twin screw ATB tug and is classed by ABS as +A1 Towing Page 2 Vessel, Dual Mode ATB, USCG Subchapter M, and is equipped with Intercon Coupler System. This will be the second ATB unit delivered to Bouchard Transportation Co., Inc. as part of their Bouchard's major expansion program.
Bouchard entered the construction program with VT Halter Marine two years ago. The B. No. 272 will join sister vessel the B. No. 270 in Bouchard's Fleet for Jones Act Trade. The first ATB unit, the M/V Kim M. Bouchard and Barge B. No. 270, was christened by Bouchard Transportation in July, and is currently in service with the Bouchard Transportation Fleet.
"Bouchard anticipates delivery of the unit, M/V Donna J. Bouchard & B. No. 272, in January 2016, followed by a naming ceremony in New Orleans," stated Morton S. Bouchard, III, President/CEO of Bouchard Transportation."