Eastern Launches Towboat for IWL River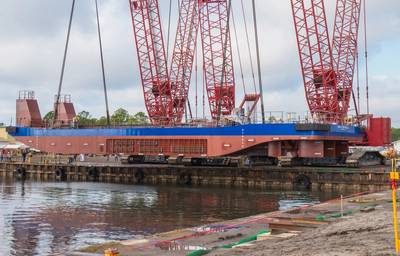 Eastern Shipbuilding Group, Inc. has launched Impala Cantagallo, the final vessel in a series of four triple screw inland river towboats for IWL River, Inc.
Launched on December 14, 2016 Impala Cantagallo is part of a series of 134-foot inland river service towboats designed by CT Marine and currently under construction at Eastern's Allanton facility, with deliveries starting in late 2016 and going through 2017.
Once in service, IWL River's new towboats will work the inland waterways of
Latin America
for Impala Terminals.
Length (LOA): 134'
Breadth: 42'
Depth: 9'
Minimal Operational Draft: 6'
Pilothouse Eyelevel (above waterline): 37'-6"
Pilothouse Eyelevel (above waterline) retracted: 21'-12"
Diesel Main Engines: (3) Caterpillar 3512C, IMO II, 1,280 Horsepower @ 1,600 RPM
Reverse Reduction Gears: (3) Reintjes, WAF665.
Diesel Generators: (2) John Deere 6090AFM85 "Gulf Pack" 200 kW, IMO II, 220-volt, 3-phase.
Classification: ABS +A1, Towing Vessel, River Service, +AMS, ABCU.
Flag: Republic of Colombia