Volvo Penta Launches New Tier 4 Open Power Units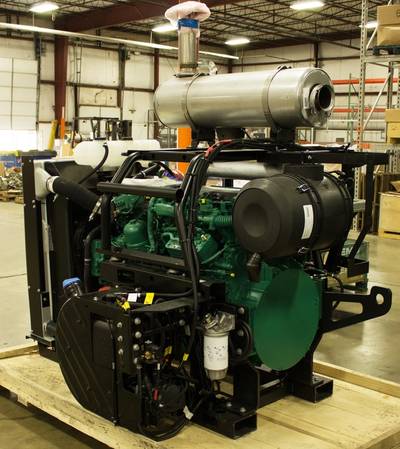 Volvo Penta has introduced a new line of EPA Tier 4 Final/EU Stage IV PowerPac industrial open power units for OEM manufacturers.
Volvo Penta is initially deploying the PowerPac systems in the
Americas
, and will roll out the products for industrial customers worldwide through the company's global distribution channels.
The PowerPac systems come equipped with a complete set of preinstalled components including all Tier 4F/Stage IV after-treatment components, engine cooling system (radiator and CAC), air and fuel filters and mounting brackets.
The result is a compact package that can be integrated into the OEM machines with no custom engineering, decreasing the time of installation and alleviating complexities in the process.
Application engineering, configuration, testing and certifications are completed at a Volvo Penta factory, and the systems are covered by Volvo Penta's global warranty. The PowerPac line is also backed by Volvo Penta's worldwide network of over 3,500 trained service dealers.
The open power units utilize Volvo Penta's proven Selective Catalytic Reduction (SCR) technology, which complies with all Tier 4F/Stage IV emission limits without using a separate diesel particulate filter (DPF) or diesel oxidation catalyst (DOC).
Volvo Penta offers the open power units for TAD87XVE , TAD117XVE and TAD137XVE engine models, with horsepower ratings ranging from 214hp to 543hp.
Volvo Penta recently began delivering the first PowerPac units to one of the largest manufacturers of dewatering systems in North America, said Ron Huibers, president of Volvo Penta of the Americas.
"Volvo Penta has developed these prepackaged open power units to meet the demand for Tier 4F/Stage IV compliant systems for a wide range of industrial applications, as well as to ease the challenges of installation for our OEM partners," Huibers said.
"Our SCR emission-reduction technology has been thoroughly proven in Volvo Group on-road vehicles and construction machines to be a superior solution, eliminating the need for large, expensive, high-maintenance DPF and DOC subsystems."