Damaged Bulker Faces St Lawrence Seaway Closure Deadline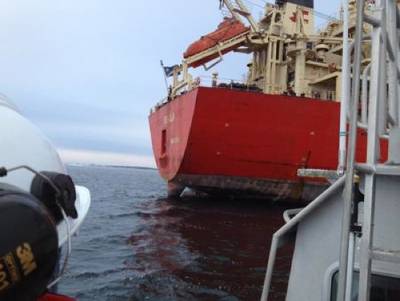 The loaded grain carrying bulk ship 'Orsula', a 656-foot Marshall Islands-flagged vessel, has been refloated after running aground near Tibbetts Point in the St. Lawrence Seaway, on Boxing Day, but the US Coast Guard report significant damage to her propellor.
The 'Orsula' sailed from Duluth, Minn., with 20,000 tons of wheat, and was planning to exit the St. Lawrence Seaway before it closes for the winter on Monday, 30, December 2013.

McKeil Marine was hired by the ship's owners to conduct salvage operations and after lightering cargo and moving ballast, the vessel was refloated.
According to the Coast Gurard, no flooding, pollution or injuries occurred as a result of the grounding.

According to CNY Central News, citing the Coast Guard, the next step is to start up the Orsula's engine to discover if she can proceed on her own, if not she could be stuck on the wrong side of the St. Lawrence Seaway, which is due to close for the remainder of the winter.
Source: US Coast Guard Ninth District/CNY