Le Havre, Larger Port for Cruise Ships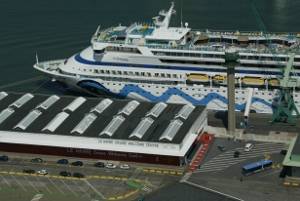 Le Havre, a French cruise port on the European west coast, has the capacity to host the biggest cruise ships in service in the world. This spring, Le Havre will see the completion of a $1.36m project that added facilities to accommodate up to 500 passengers.

The new accommodations, to be completed by March of this year, will help Le Havre meet cruise lines' expectations. In terms of traffic Le Havre expects another great year for 2010: 67 calls totaling 115,000 passengers are scheduled -- up 25 percent from last year.

A restoration project has breathed new life into the old docks area, the threshold of Le Havre. In 2008, an aquatic complex, designed by French architect Jean Nouvel, opened, and was followed by the Les Docks shopping mall in 2009. Next in line for the project is a new sustainable development center, also designed by Nouvel, that will dominate the Le Havre skyline at 120 meters high and will include a sky-high restaurant with a 360-degree view of the city and the bay of the Seine.