Meet EMILY, the Robot Lifeguard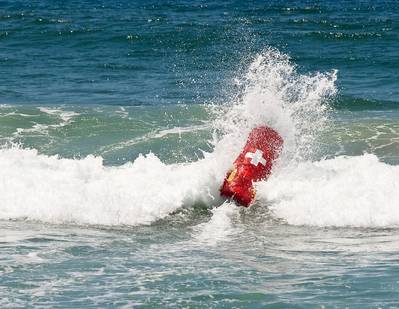 Hydronalix's superstar named EMILY (for EMergency Integrated Lifesaving lanYard) can zip through the surf to save a drowning victim.
EMILY is reminiscent of a floating gurney covered with a bright red cloth with a white cross. It is a four-foot-long remote-controlled rescue buoy that can zip across choppy waves at up to 26 mph, reaching a drowning victim 10 times as fast as any swimmer.

Propulsion comes from an electric motor and a Jet Ski-type impellor that pulls water in and ejects it out the back, generating enough thrust to safely tow a struggling swimmer back to shore.

Lifeguards remotely steer the craft to its target and use an onboard camera and speaker to communicate with victims.

Hydronalix will be showing EMILY and its other products at the forthcoming first-ever joint conference of The Maritime Alliance (TMA) and The Security Network (TSN).