Lifejacket Whistles Save Lives in Sunda Strait Rescue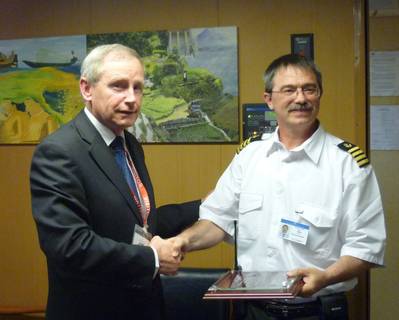 AMSA officials congratulate captain & crew of a container ship on their rescue of 15 asylum-seekering survivors from a Sunda Strait casualty.

The APL Bahrain recovered 15 survivors following the sinking of a passenger vessel on 29 August 2012 off the southern Sunda Strait, including six people who were rescued in the dark. The vessel also acted as on scene coordinator for much of the operation, coordinating up to five merchant ships and aircraft over two days.

AMSA's Emergency Response Division General Manager Mr John Young, along with Mr Chris Barber of the Adelaide Office and Ms Jo Meehan of Strategic Relations, visited the captain and crew of the APL Bahrain in Adelaide to congratulate them on their commendable and professional efforts during the recent search and rescue operation in the Sunda Strait.

Captain Manuel Nistorescu explained the first group of survivors were found in the dark after the crew heard lifejacket whistles from the water. The captain and his crew continued to search for the next 12 hours, recovering nine more survivors and transferring them to Indonesia for medical attention.

During the presentation of a plaque to Captain Nistorescu and his crew, Mr Young thanked them for their willingness to assist in the rescue and the preparations they had made that led to hearing the lifejacket whistles, their seamanship to execute the recovery of survivors in difficult conditions and their cooperation with, and coordination of, other operational ships and planes.