ISP Unveil Re-designed Lifejackets Range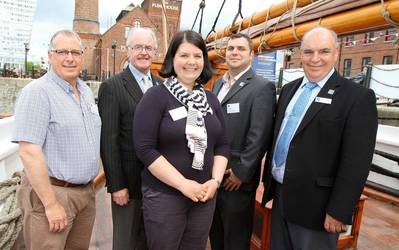 UK's International Safety Products, manufacturer and supplier of marine safety products, says it launched a redesigned package of lifejackets at the recent Shipbuilding, Maritime and Machinery (SMM) trade show in Germany.

The firm's Andy Scott said they unveiled new be-spoke versions of the Challenger Flexi-wing 150N, Challenger Interlock 275N and Challenger Worksafe Pro 170N lifejackets.

The lifejackets now have additional design options to provide even greater comfort, particularly for people working across the maritime sector.

Mr Scott said many manufacturers are highlighting 275N SOLAS/MED (Safety Of Life At Sea Maritime Equipment Directive) lifejackets as being better for working personnel than 150N SOLAS/MED lifejackets, whereas the opposite is true in many situations.

ISP is one of few firms able to manufacture and supply SOLAS/MED approved 150N lifejackets (the Challenger Flexi-wing) - which are a more compact and lighter alternative to 275N models.

"The SOLAS/MED test requirements are extremely demanding," said Mr Scott. "This may be the reason that other firms are placing greater emphasis on the 275N models, as they are unable to achieve the requirements with a 150N version.

ISP has extensive experience in the industry and world class design and manufacturing capability. This combination has enabled ISP to produce the Challenger Flexi-Wing 150N lifejackets, as well as the proven and highly used Challenger Interlock 275N lifejacket.

"The principal of a 275N lifejacket is that it gives improved buoyancy and turning motion when personnel are working offshore wearing large amounts of clothing or survival suits. However, in the vast majority of cases, it simply isn't necessary and can be cumbersome - since they are always larger and heavier to wear than a 150N lifejacket.

"ISP's Challenger Interlock 275N is recognised as one of the best performing lifejackets for self righting an individual when they are wearing immersion suits and is specified by many of the world's leading offshore operators. As the marine safety industry is aware, it is important to specify the correct equipment for the job, and therefore the company says it is proud to be able to offer its, either solution - 150N or 275N.

Based in Liverpool, UK, ISP is a leading manufacturer and supplier of a broad range of marine safety equipment including lifejackets, immersion suits, tactical waistcoats, liferafts, Epirbs, PLBs, SARTS and marine safety lights.
Pictured: (l to r) Andy Rogers, John Rogers, Mary Flower, Mik Billington, Geoff Billington