EBDG to Design Lightering Support Vessel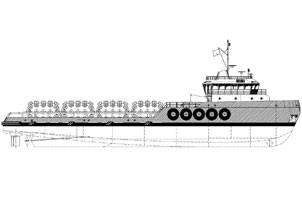 As a player in the Gulf lightering business, AET recognizes the need for modern, new lightering support tonnage to better serve its clients and aid safe operations. Although the new generation lightering support vessel (LSV) might look similar to a Gulf supply boat, several characteristics set it apart.

It is designed to be easily built and operated. It also features less piping, ballast and cargo tankage. Since the vessel is mission-specific to handle Yokohama fenders and small cargos for tankers, there is no need for dry-bulk tankage and associated pumps for systems such as fuel oil cargo and drill water. The design calls for hi-lift rudders and modest power. The vessel's bow design shows minimized flare and the side shell is canted inwards (known as tumble-home) to reduce appendages and surfaces. This minimizes the risk of damage in close-quarters maneuvering and promotes safety and ease of operations when working close-aboard tankers off-shore.

EBDG's LSV design measures 185 ft by 46 ft by 15 ft and estimated lightship weight is 1670 tonnes. Currently, Leevac Industries is constructing two LSVs with an option for additional vessels. Meanwhile, AET's investment in its lightering operations also extends landside, with a major new warehouse, offshore office and home base for its workboat crews currently under construction in Galveston.