Navy's Littoral Combat Ships: Latest Update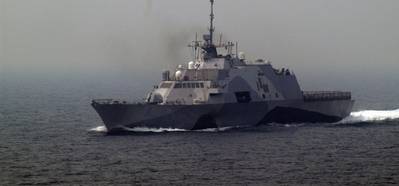 The Navy plans to buy 52 LCS in accordance with the long-range shipbuilding plan – continuing the remainder of the block buy ships through FY 2015 (up to hull number 24) and then starting the next procurement contract in FY 2016.
To date, the Navy has taken delivery of USS Freedom (LCS 1) , USS Independence (LCS 2) and USS Fort Worth (LCS 3).

There is and continues to be discussion on changes to the ships and mission packages. This is by design; explains the Navy, as the program is fundamentally about the ability to deliver changes and improvements to fielded capability. However, the key performance parameters and the requirements have been fundamentally unchanged and stable for a decade.

LCS fills current capability gaps for the Joint Force in the littorals and is a balanced force, structured to defeat adversaries in times of war and maintain a sizeable, continuous naval presence across the globe. Upon reaching full operational capability, LCS will deliver more mission capability in mine countermeasures, surface warfare and anti-submarine warfare than our current mine countermeasure, coast patrol and frigates ships with the added advantage of being rapidly reconfigurable across the three mission areas at a reduced cost.

Both LCS shipyards have invested considerable resources into facility improvement and have rapidly incorporated lessons learned from construction of Freedom, Independence and Fort Worth. LCS 4 (Coronado) is scheduled to be delivered in September 2013. LCS 5 through 8 — Milwaukee, Jackson, Detroit, and Montgomery — will be delivered by the end of FY15.

Mission Packages
Production of LCS mission packages continues to pace LCS ship construction and meet needs associated with mission package testing, crew training and operational deployments of LCS ships. Developmental testing is underway for the mine countermeasures and surface warfare mission packages.

Testing performed to date on individual mission systems and the mission package has shown that the Increment I Surface Warfare – which will reach Initial Operating Capability aboard Forth Worth in spring 2014 – and the mine countermeasures mission package will meet their requirements. The Mine Countermeasures Mission Package Increment I already provides approximately twice the coverage rate of legacy systems.