LNG Bunkering: World's Largest Starts Ops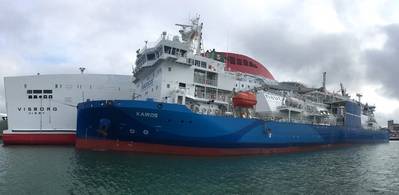 On March 15, 2019, the world's largest bunker supply vessel (BSV) for liquefied natural gas (LNG) Kairos conducted the first LNG bunker supply operation for the newbuild ferry MS Visborg at the ferry pier of the port of Visby.
The bunker operation puts into practice the contract for the supply of LNG, which was signed by Nauticor, a leading supplier of LNG as marine fuel, and Destination Gotland, the owner and operator of the new ferry, in December 2017 and enables the ferry to run its service on the environmental-friendly fuel while connecting the Swedish mainland with the island of Gotland.
Mahinde Abeynaike, CEO of Nauticor, underlined the importance of achieving this important milestone: "The start of LNG bunkering for Destination Gotland's new LNG fueled ferry "Visborg" marks the start-up of bunker operations with our new LNG bunker supply vessel "Kairos" and shows that the availability of LNG as fuel for shipping on a large-scale basis is secured in Northwest Europe. With shipping companies having access to a fuel that not only is financially attractive, but also environmentally sustainable, people and nature in Northwest Europe, and especially along the Swedish East coast, will benefit from a substantial reduction of emissions at sea and in port."
With a tank capacity of 7,500 m³ Kairos is the world's largest LNG bunker supply vessel. Nauticor chartered the Kairos via the joint venture Blue LNG from the owner Babcock Schulte Energy, where Nauticor has a 90% share and Lithuanian energy infrastructure provider KN (Klaipedos Nafta) has a 10% share.