LNG Oversupply to Turn into a Shortfall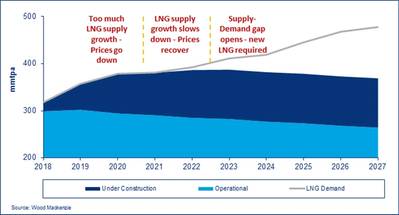 Among the reasons oil companies are latching onto gas as the energy transition looms are that it's plentiful, future demand growth outstrips oil and it has relatively low carbon intensity, said Wood Mackenzie in a report.

LNG market is set to flourish, yet prices today are collapsing - the report explains this contradiction.

Massimo Di-Odoardo, Head of Global Gas Research said in the report: "We've just come off the back of two strong years when surging demand growth absorbed new supply. A record 38 Mt, or 12%, of additional LNG supply comes on stream this year, so 2019 was always going to be difficult."

Asian LNG prices have slumped from over US$11/mmbtu in October to US$4.5/mmbtu for May delivery. Right now, they are trading at a rare discount to European prices. Russian and Norwegian pipeline exports to Europe have held strong, and LNG imports to Europe are likely to increase this summer because of lower seasonal Asian demand and more supply coming on stream.

Cash costs for buyers of US LNG into Europe are at the top of the curve, ranging from US$3.50 to US$4.00/mmbtu. If prices dip below that, we could see some shipments curtailed. But short-term economics aren't the only driver.

"We're going to see huge growth in US volumes in coming years. Sellers want to prove to future buyers the merits of long-term US LNG contracts. Shut-ins would send the wrong signal," he said.

The report said that prices will double inside three years. Supply additions slow dramatically from 2021, then a yawning gap opens for new volumes post-2023. Some new projects need upward of US$7/mmbtu to break even.

The lead time for new LNG supply is about five years on average from FID to commissioning so investors need to start building. LNG Canada (Shell), Tortue (BP) and Golden Pass (ExxonMobil/Qatar Petroleum) got the green light in the last few months.

A host more FIDs are coming that will lift total investment in new projects to over US$200 billion, and bring over 100 mmtpa of new LNG supply to the market by the mid-2020s.