Harvey Gulf Announces Plans for 3 New LNG-Powered Boats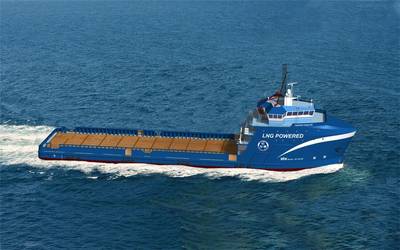 Initial deal worth $165 million; $300 million for 6 additional newbuilds and another $500 million for acquisitions also approved.
Harvey Gulf International Marine announced Saturday that it will sign a deal for three LNG vessels to be built by Signal Shipbuilding. At a Harvey Gulf board meeting held on Satruday afternoon, the Louisiana-based operator's management team approved the $165 million deal, said Harvey Gulf International Marine Chairman & CEO, Shane J. Guidry. Guidry told MarineNews Editor Joe keefe, "Also, the Board approved an additional $300 million for another 6 newbuilds, as well as $500 million for acquisitions." Financing terms were not disclosed.
The Louisiana-based marine transportation company, specializing in towing drilling rigs and providing Offshore Supply and Multi-Purpose Support Vessels for deepwater water operations in the U.S. Gulf of Mexico, has in recent years aggressively pursued a path of focused growth and acquisition. Harvey Gulf's newer vessels are typically characterized by state-of-the-art technology, usually outfitted above and beyond simple regulatory requirements. The deal to acquire still more vessels, this time focusing on clean running LNG tonnage, appears to further that trend. On the WEB: http://www.harveygulf.com