China Shipyard Starts NOR LInes LNG-powered Cargo Ship Build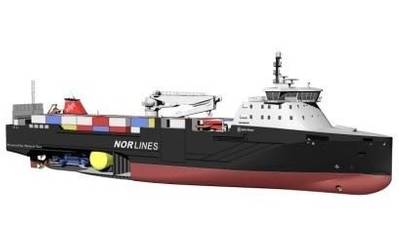 Tsuji Heavy Industries Jiangsu begins construction the first of two LNG-powered 5,000 dwt vessels for NOR Lines.

The contract to build the two 5,000 dwt vessels was signed in October 2011 and construction has now begun with owner's representative and classification society DNV surveyor in attendance.

NOR Lines operates a fleet of 16 cargo ships and 11 express vessels in Norwegian/Scandinavian coastal waters serving more than 70 ports.

With support from the Norwegian's Authorities and close collaboration with Rolls-Royce Marine, NOR Lines developed the design of these LNG-powered vessels in order to reduce exhaust gas emissions and save energy.