$560M Explora I Delivered for MSC's New Luxury Cruise Brand
MSC Group Cruise Division -- Explora Journeys -- saw the launch by Fincantieri of Explora I, the first of four new luxury cruise vessels for MSC's new luxury travel brand. The first ship cost $560m, part of a four-ship newbuild plan for a cumulative $2.6B.
The event was attended by Gianluigi Aponte - Founder and President of the MSC Group, Pierfrancesco Vago - Executive President of the Cruise Division of the MSC Group, the godmother of the ship Zoe Africa Vago, and for Fincantieri Pierroberto Folgiero, Chief Executive Officer, as well as representatives of the MSC construction team together with managers and workers of the shipyard.
Explora I will depart on her maiden voyage on August 1 from Copenhagen in Denmark. The luxury vessel will spend several weeks in Northern Europe offering a number of different itineraries and will then cross the Atlantic Ocean to spend the winter in North America and the Caribbean Sea before returning to Europe in the summer of 2024 for a few cruises in the Mediterranean Sea.
Explora II is currently under construction at the Fincantieri shipyard in Genoa Sestri Ponente and will enter service in August 2024. EXPLORA III will be the first of two liquefied natural gas-powered vessels to join the Explora Journeys fleet, with delivery expected in 2026, while EXPLORA IV in 2027.
All Explora ships are outfitted with Selective Catalytic Reduction (SCR) technology, connectivity to the shore power grid, underwater noise management systems and a wide range of energy efficient equipment.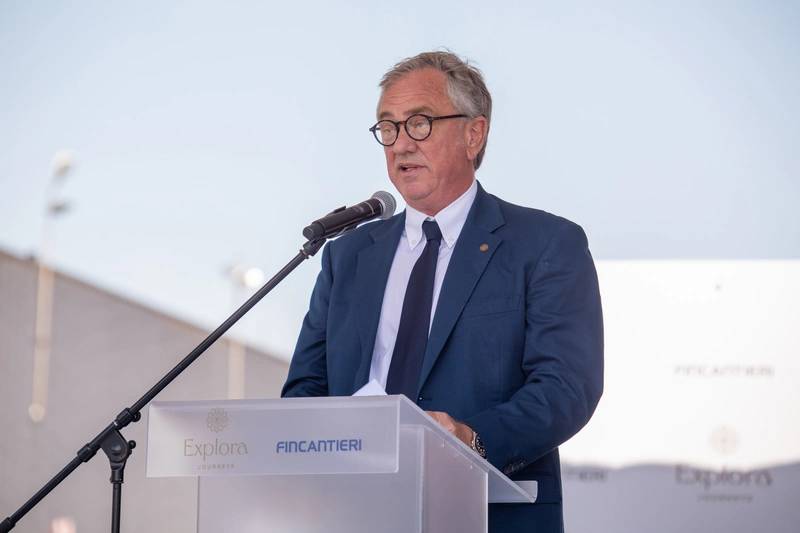 Pierfrancesco Vago, Executive Chairman, Cruise Division of the MSC Group. Image courtess Fincantieri