CSSC Nanjing Luzhou, MacGregor Start Joint Venture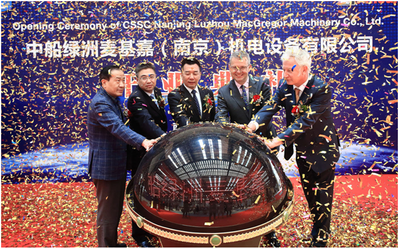 MacGregor, part of Cargotec, and China State Shipbuilding Corporation's (CSSC) Nanjing Luzhou Machine Co., Ltd. (LMC) celebrated the opening of a new joint venture in Nanjing, China on April 10.
With common efforts from both parties, the joint venture will be gradually developed to be the center of excellence for air compressors. The cooperation will be expanded step by step to cover other suitable products in the future.
The joint venture's business model and organizational structure were developed during 2017, and the business license was obtained in March 2018.
Sun Wei, Vice President, CSSC Group, said, "This joint venture establishment is a new cooperation model between our companies who both operate in the challenging market conditions. CSSC Nanjing Luzhou and MacGregor have built a solid foundation through 30 years' friendly cooperation. The new joint venture will combine MacGregor's strengths in design, technology, management and global after-sales service with Nanjing Luzhou's strengths in domestic production and sales based on the scale and industry strength of the CSSC Group. By actively exploring effective and innovative ways of cooperation, we are together able to achieve a win-win situation and good market prospects for the joint venture
Michel van Roozendaal, President, MacGregor, said: "When looking at CSSC and MacGregor, we see two leaders joining forces. CSSC is the primary shipbuilding group in China, and well positioned as a global leader in the industry. MacGregor is the global leading expert of marine and offshore cargo and load handling solutions. This powerful combination will help us serve our customers even better than before. We shape the industry we operate in."