Tell NOAA If You Think the IWR Still Needs the 'Magenta Route'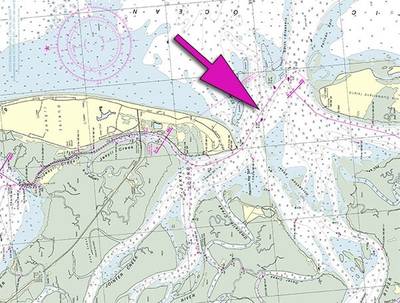 If you are a recreational boater, fisherman, or another member of the maritime community, NOAA's Office of Coast Survey wants to pick your brain about the "magenta line," which historically depicted the recommended route for the Intracoastal Waterway Route (IWR) on NOAA nautical charts.

A recent Federal Register Notice outlines NOAA's options for improving the accuracy of the magenta line, which is presently being removed from new editions of nautical charts. Federal funding does not allow for consistent maintenance of the 3,000-mile (4,800 km) Intracoastal Waterway Route, which runs most of the length of the Eastern Seaboard and around the Gulf of Mexico to Brownsville, Texas.

In fact, many portions of the route have not been surveyed since the mid-1930s. Consisting of natural inlets, rivers, bays, and sounds, as well as artificial canals, the Intracoastal Waterway is heavily traveled by recreational boaters who want to avoid the hazards of the open sea. Among these boaters are thousands of "snowbirds" who regularly pilot their recreational vessels south in winter and north in summer.

The U.S. Coast Survey especially welcomes your thoughts on the following: Do recreational boaters and/or commercial mariners need a magenta line to depict the specified Intracoastal Waterway Route? If so, should that be a federal government charting responsibility?

The deadline for public comments is December 26, 2013. To provide your comments:
Email CoastSurveyCommunications@noaa.gov;
Send a fax to 301-713-4019; or
Send a letter to LTJG Leslie Flowers, NOAA Office of Coast Survey, 1315 East-West Highway, Silver Spring, MD 20906.