Mainstay Marine Expands Lifting Capacity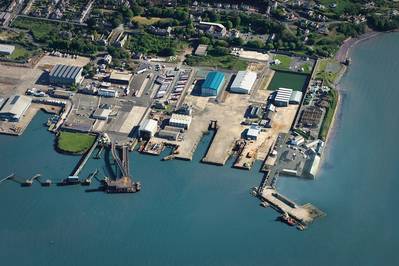 Welsh workboat builders and servicing specialists Mainstay Marine Solutions said it has secured funding to support the purchase of a 150/200 ton boat lift.
Mainstay Marine Solutions, marine engineers located in the deep-water port at Pembroke Dock on the Milford Haven Waterway, are set to purchase an amphibian boat hoist with the assistance of Coastal Communities Fund (CFF) funding.
The 150/200 ton hoist will be capable of lifting vessels out of the water and moving around their 4.6
hectare site
and into the company's' 4,000 m2 of covered workshop space. This will expand Mainstay's ability to provide a clean and controlled environment for servicing vessels away from the elements, the builder said.
The hoist will increase the maximum lifting capability in the Haven from the current 35 tons.
Stewart Graves, Managing Director, commented, "We are delighted to have secured the funding from CCF. The boat hoist will complement our recent upgrades to our slipways to allow us to expand on our marine service capabilities. We will be able to work on more boats at any one time as we will be less dependent on slipway availability, meaning a quicker turnaround and more cost-effective solution for our customers."
Mainstay's location benefits from proximity to the
Bristol Channel
,
Irish Sea
and Atlantic trade routes. The new addition will complement the company's existing facilities inclusive of a wet basin, four slipways (two covered) and a ro-ro slipway. The amphibious marine hoist will be capable of lifting vessels up to 35m in length with a 10m beam and a draft of 4.5m. The hoist will also allow the company to extend their products offerings to include servicing GRP, Wood and Concrete vessels.
Nigel Johnson, Marine Services Manager, commented, "It is essential that we continue to reinvest in our facilities to keep up with demand. The hoist will allow us to service a larger number and variety of vessels in covered facilities and will help to minimize vessel downtime. We look forward to welcoming new and existing clients into our yard."
CCF funding, delivered by BIG Lottery Fund encourages the economic development of U.K. coastal communities. The grant forms part of a total project cost with the remaining funding coming from the company's own reserves. Since its inception in 2014, Mainstay Marine has safeguarded 30 jobs and created 50 new positions, with 10 percent of the direct workforce consisting of apprentices. The additional work expected from the introduction of the hoist is said to create five permanent jobs and two additional apprenticeships.
It is anticipated that the hoist will complement the £76 million ($98.6 million) Swansea City development project ring-fenced for Pembroke Port to support the Marine Renewable Sector in Wales. Mainstay are already market leaders in the renewable industry having built the 200ton tidal energy device for Tidal Energy Ltd and an innovative wave energy converting device for their clients Wave-tricity.