Mainstay Adds New Trolley Recovery System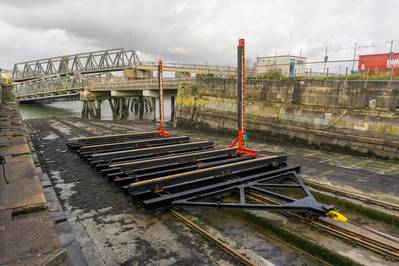 Mainstay Marine Solutions, a workboat builder and servicing specialists in South West Wales, said it has completed an overhaul of its existing marine servicing facilities, nearly doubling its slipping capability from 350 tons to 650 tons with the introduction of a new trolley recovery system.
Fabricated in-house, the trolleys will be capable of slipping 45m long vessels up to 650 tons with a maximum 12 meter beam and 4 meter draft directly into one of its undercover sheds.
Stewart Graves, Mainstay's Managing Director, commented, "The additional tonnage capability will allow us to service vessels we have previously had to turn away. Our marine servicing sector is a key part of our business, it is essential that we continue to reinvest in our facilities to keep up with demand."
The new additions also complement the company's existing facilities inclusive of a wet basin, four slipways (two covered) and a ro-ro slipway.
The investment forms part of a larger facilities upgrade where Mainstay is in the final stages of purchasing a 150T/200T amphibian boat hoist with the assistance of Coastal Communities Fund (CFF) funding. The hoist will be capable of lifting vessels out of the water and moving around the site and workshops as necessary.
Nigel Johnson, Marine Services Manager, commented, "Clients are requesting more and more that certain work is undertaken in more controlled environments away from the elements, the investment in our facilities helps to address this. We look forward to welcoming existing and new customers into our yard."
Mainstay services a variety of steel and aluminum commercial workboats including patrol, pilot boats, survey, passenger and crew transfer vessels. Located in the deepwater port at Pembroke Dock on the Milford Haven Waterway, the yards' location benefits from proximity to the
Bristol Channel
,
Irish Sea
and Atlantic trade routes.