Major Electrification Contract Awarded to NES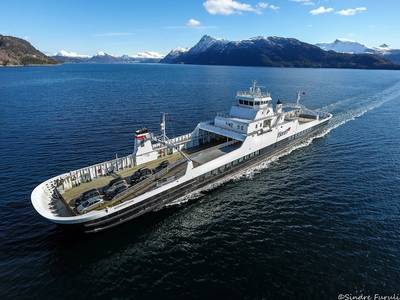 Norwegian Electric Systems will deliver equipment in connection with the electrification of MF Norangsfjord and the charging station at Hollingsholmen ferry quay.
Norway's biggest ferry company Fjord1 has chosen Norwegian Electric Systems (NES) to supply the electrical and automation package to be used in the modification of MF Norangsfjord. The modifications are scheduled for the last half of 2019. The ferry will serve the Aukra–Hollingsholmen route, where the quay at Hollingsholmen will be modified to include a complete charging system.
Good cooperation between Fjord1 and NES
NES has delivered a number of hybrid electric propulsion systems in recent years for Fjord1's new ferries.
Optimized technical solutions
NES has previously converted diesel-powered ferries to diesel-electric propulsion ferries, and this will be the first ferry to be modified to run as a hybrid fully-electric ferry.
Stein Ruben Larsen says the most important task as a systems integrator is to ensure that all components are securely and optimally assembled and that they communicate well.
'We are delivering a package where each individual component, their interaction and the overall product reflect NES's position as among the best in the world at environmentally friendly technology.'
NES will deliver system integration and calculations for MF Norangsfjord's modification to a hybrid ferry. The newly developed QuadroMaster DC power distribution board with the state-of-the-art Odin's Eye DC grid solution are also part of the delivery.
With this contract, NES shows that it can provide complete solutions for environmentally friendly hybrid ferries both in the form of newbuilds and modification projects.
The main services and components of the delivery are:
System integration and calculations
QuadroMaster DC power distribution board, including Odin's Eye and frequency converters
Battery systems
Charging system with plugs and transformers
Upgrade of the vessel's IAS and PMS system
Integration of the reporting system Ship Performance Monitoring (SPM)
Onshore deliveries comprise:
System integration and calculations
Charging plug
Power electronics, including batteries and charging system