MAN Reenters Finnish Market with Baltic Order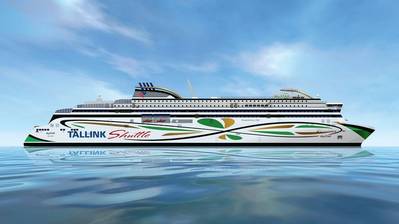 MAN Energy Solutions has won the order to supply the engines for a newbuild shuttle ferry for Estonian shipping company Tallink Grupp.
A diesel-electric plant comprising five MAN 51/60DF dual-fuel main engines – with liquefied natural gas (LNG) as primary fuel – will power the MyStar, which Rauma Marine Constructions (RMC) will construct at its yard in Finland. Delivery to the customer is scheduled for early 2022. Upon entering service, the vessel will serve the Tallinn-Helsinki route.
Jyrki Heinimaa, CEO, Rauma Marine Constructions said, "Compared to Tallink's newest shuttle ferry, Megastar, which also operates between Helsinki and Tallinn, the MyStar's design – featuring the MAN main drivers – will reduce the ferry's emissions even further."
Lex Nijsen, Head of Four-Stroke Marine Sales, MAN Energy Solutions, noted, "This is the second agreement we have made for the 51/60DF within a short period of time in the Baltic after TT-Line placed its RoPax order earlier this year."
The NB6003 Tallink MyStar is the biggest vessel to date that RMC has agreed to build. The new shuttle ferry will be approximately 212 meters long with a gross tonnage of some 50,000 dwt. It will be able to accommodate 2,800 passengers.